Working out is crucial for older adults
18th August 2020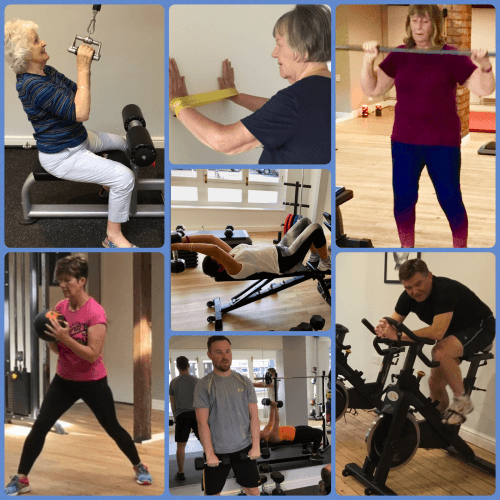 Getting older is not much fun, a client of mine once said your eye sight diminishes just before your butt and knees sag! Her humour was wicked but held a lot of truth..
It must seem unreal to the younger generation that somewhere down the line they will find it difficult to put on socks, lace up shoes, stand on one leg whilst you pop the other down the leg of your trousers. These simple physical tasks we take for granted, until we find them difficult to manage.
Our Fit Friends older adult programmes are specifically designed to help you improve your physical function. Never more than 4 people in a group your own personal trainer will help you gain your confidence, whilst completing appropriate exercises.
So whether you are of a certain age (our oldest member is 88), had a joint replacement, suffered a stroke or heart attack, struggle with an illness or just have never tried to exercise, Fit Friends has something to suit you.
Janet One of our current members explains "at the age of 72, having never set foot in a gym in my life before, my sister and I joined Fit Friends. We attended the O.ptimise sessions, designed to help us remain active and independent.
In our small group (max of 4 people) we work on strengthening the muscles which support our ageing joints, core strength and balance, helping in the prevention of falls and injury. I suffer from osteoarthritis and my sister has fibromyalgia (a debilitating condition which can severely affect mobility). But as we work in such a small group the qualified friendly personal trainers are able to make small adjustments to the exercises to suit our individual ailments and abilities.
Working in a small group of people of similar age and ability is so much better than attending a large impersonal gym, with little or no guidance and the embarrassment of workout alongside young, fit, slim people.
Being pensioners we didn't think we would be able to afford a personal trainer, but with Fit Friends we use off peak credits and pay £40/month for 5 credits per month. we feel we are taking the right steps to take control of our own health and wellbeing and genuinely feel so much better and far more confident.
Our tips for keeping emotionally and physically fit:
Move regularly, try not to sit for long periods of time.
practice standing up from your chair without using your hands
Try a 10 minute walk on most days of the week
Talk, chat, share, you don't have to have deep and meaningful conversations, a simple chat will lift your mood.
Squeeze a tennis ball 10 times In each Hand to keep hand and wrist strength.