Does Stress Affect Weight?
2nd April 2019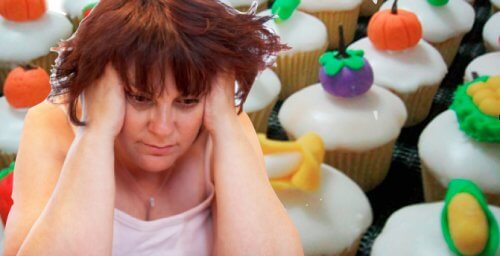 Stress is a common issue in almost everyones life and we all respond in different ways. Some people lose their appetite completely, whilst others feel hungry and crave certain types of food. These physical reactions are driven by a complex interaction between the mind and the body. Here we ask the question, does stress affect weight?
Stress is a primitive reaction, designed to keep us alive and although we are often no longer facing life threatening situation the response is the same as if we were. Our perception of stress might be missing a deadline, being late for work, the children screaming and fighting etc but the hormones released to cope with the stress are powerful and aimed at keeping you alive.
How does stress affect our hormones.
The hormones released are adrenaline, corticotropin- releasing hormone (CRH) and cortisol, these change the immediate function within the body. Firstly adrenaline raises heart rate, blood pressure, blood sugar and removes blood from non essential organs like the kidneys, digestive system and skin and redirects it to the large muscle groups of the body and the brain.
CRH reduces appetite and if this doesn't return then cortisol is then released, to increase appetite. Cortisol, regulates blood sugar levels and metabolism… remember this one as this has a massive effect on weight loss and gain!!
The impact of stress on appetite varies and also depends on whether the stress is short lived or long term.
Appetite is reduced during the initial onset of a stressful situation, because adrenaline causes a breakdown of glycogen in the liver and fat from adipose tissue. If the stress response lasts for some time, or is part of you daily life and long term, then cortisol is released.
Cortisol increases in the adrenal glands and stimulates appetite.
How does stress affect blood sugar levels?
As a result of an increased production of cortisol, blood sugar levels rise and the body breaks down protein stores within the liver. With a high level of sugar in the blood the body is forced to produce insulin to control and reduce the blood sugar, if the mind continues to be stressed then the body continues this cycle and over a period of time the body can become resistant to insulin which is linked to type 2 diabetes.
How does stress affect fat storage?
This is a complex procedure but in short stress induced activation of adrenaline plays an important role in body fat accumulation. Its increase in cortisol and increased appetite reduces the bodies ability to breakdown food. Abdominal tissue has a high number of fat cells and high blood flow, which increases the number of receptors cortisol can attach and deposit fat.
Therefore the abdominal part of the body becomes a storage area for fat, manifesting itself as a larger waistline.
How can Fit Friends help you.
The Fit Friends monthly membership includes unlimited small group personal training sessions. Activity is one method of reducing stress levels, it works in two different ways, produces endorphins which counteract some of the stress hormones and takes your mind away from the stressful issue.
Fit Friends offers 6 face to face counselling sessions within the package, which will help you to understand how and why you feel stressed, then Nic will work with you to manage your situation and help put you back in control.
Fit Friends offers help with your diet and includes regular weigh ins, motivational talks, workshops and free recipes
If you are within our first 30 members you will receive 30% off your membership so for only £60 per month you can get in control of both your life and weight…
For more information or to book a consultation or free taster session call 01509 437765